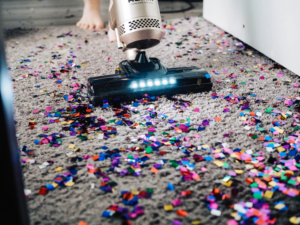 Our homes contain a variety of items that contribute to their coziness, like paintings, porcelain, furnishings, and carpets. Sometimes, their colour, shape, and style can help reflect something about our personalities. Therefore, we should make these things as clean, visible, and organized as possible.
In this article, we will talk about the challenges of carpet cleaning so you can ensure a cozy and clean environment at home. 
Should our carpets be cleaned? 
The simple and short answer is yes. Numerous advantages are associated with having a clean carpet. One notable effect is the health benefit it provides. Having a clean carpet will allow us to breathe clean air devoid of dust, mites, and bacteria.
However, we can encounter some problems that will hinder us from getting the hygienic material we want, and we will investigate them in this post. 
#1 Wicking and browning 
Wicking is when a carpet is heavily stained and then cleaned with water. This happens when the deepest part of the fibre affected by the stain becomes wet, pushing the liquid and stain to the surface as a brown or yellow spot. On the other hand, browning occurs immediately after a thorough cleaning procedure. 
Furthermore, one of the most common causes of browning is water and moisture. This is why you should never expose your carpet to excessive wetness, as it can even lead to mould growth and irreparable damage.
The good news is that moisture should be extracted from the carpet as much as possible after a thorough cleaning through baking soda. Simply sprinkle baking soda over your damp carpet, let it sit for at least 30 minutes, and vacuum the carpet.
#2 Colour fading
Carpets can be coloured with different hues. However, we cannot prevent the rich colours from fading as time passes due to use and cleaning. 
One way to resolve this problem is to determine how your carpet was coloured. This way, you can find the proper cleaning agent for your soiled carpets. If your carpet was yarn-dyed, the best option for you is to conduct re-dying. While there are some DIY solutions you can do at home, it is ideal to leave this process to the professionals to ensure the best results.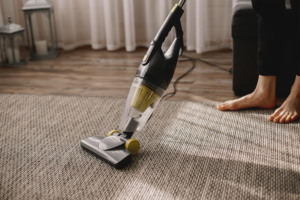 #3 Tearing and ripping
Tearing and ripping can be caused by your cleaning equipment, method, and even the chemicals you used that you did not know were highly abrasive.
To avoid this from happening, make sure that you research the appropriate cleaning solutions, methods, and equipment for your carpet type and composition. In addition, avoid strong chemicals like bleach and harsh laundry detergent as they can be both toxic and allergenic. 
#4 Shrinking
Your carpets can shrink if you use excessive heat or water when cleaning your carpet. This is why you should only use water of proper temperature and amount. The optimal temperature range for carpet cleaning is between 100 and 150 degrees Fahrenheit. It would also help if you considered the carpet's fibre type, texture, loop pile, and density before cleaning it.
#5 Maintaining carpet cleanliness 
The longer your carpets remain clean, the less intervention is required. The best way to achieve a clean carpet for as long as possible is to vacuum them regularly. You should also take measures to prevent pet hair from remaining on your carpet. Other helpful tips include always having doormats available and not allowing shoes inside your homes. Additionally, it would help if you had a professional carpet cleaner perform a deep cleaning once a year.
#6 Finding the most suitable professional carpet cleaner
You will be astounded by how many carpet-cleaning businesses are nearby. The difficulty is in determining which of these companies is best for you—the one who will be able to resolve your current carpet issue. 
BOAS Cleaning Services is a Western Australian-owned company that provides commercial and domestic carpet cleaning services in South Perth and adjacent suburbs, including South Perth.
Final thoughts 
Is carpet cleaning difficult? Simply stated, the answer is no! However, if you often encounter the challenges we have listed above, your best bet is to hire a professional carpet cleaner. That way, you will not add more trouble to what you already have. Instead, you may solve your problems in no time.