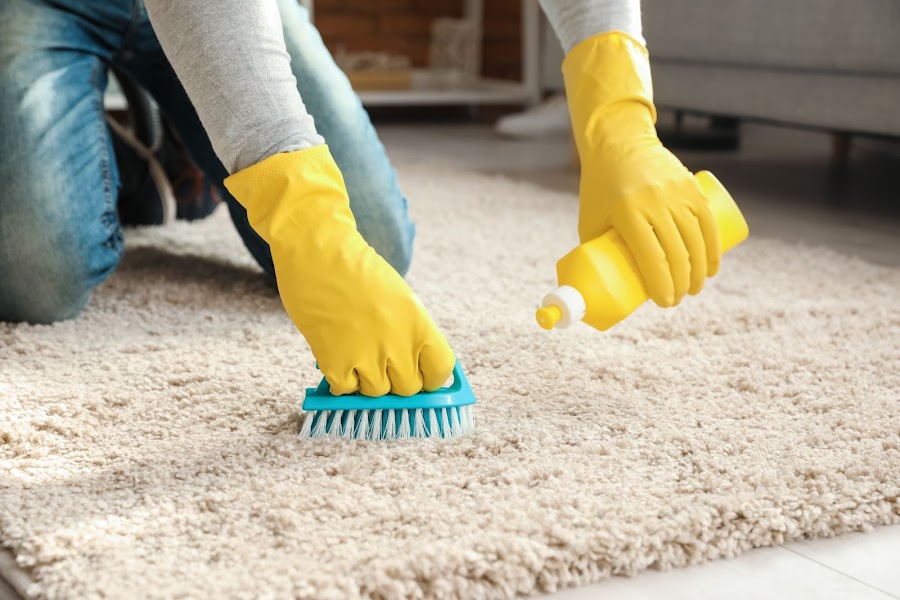 Carpeting is a popular choice among homeowners who want to improve their level of comfort. When compared to tiles and hardwood, they provide more thermal insulation and aesthetic appeal.
However, although they look and feel great for your home, a lot of homeowners find it challenging to clean and maintain them. 
Effective steps to cleaning your carpet 
Know your carpet type: 
It is crucial to analyse the type of carpet that would be most appropriate for the room in which you wish to install it. Knowing the material of your carpet will help you understand how you can clean them effectively. 
Shag carpet: Shag rugs have a shaggy or untidy appearance, which makes them stand out in a room and attract attention. When cleaning this material, vacuuming the dust can help to restore the fluff and revitalise the rug's appearance.
Cut-loop carpet: A cut and loop carpet is a type of carpet that is manufactured by combining looped threads with cut fibres in a particular pattern. Steam cleaning is particularly effective on loop pile carpets. Due to the general way the strands are twisted and looped, these carpets have the potential to retain more water, dirt, and stains than cut pile carpets.
Polyester carpet: A hydrophobic fibre is one that repels liquid, and polyester is one of the best examples of this. To clean this material, you can combine water with a small bit of mild detergent and swish it around. Using a clean sponge, dab the place with the detergent water to remove any remaining residue.
Loop pile carpet: Loop carpets are highly durable and give outstanding performance in all parts of your home, especially if you choose a low, densely woven loop design. Strands of wool or synthetic fibres are looped into the carpet backing to create a textured look. Steam cleaning is particularly effective on loop pile carpets. Due to the sheer way the strands are twisted and looped, these carpets have the potential to retain more water, dirt, and stains.
Plush pile: This is one of the most long-lasting types of carpet available. Shaking or thumping your rug on a regular basis is an excellent approach for regularly rejuvenating dirty rugs that aren't discoloured or in desperate need of deep cleaning. Dry shampoo for carpets can also be used to revive the appearance of the carpet.
The different tools you can use when cleaning your carpet 
There are different methods you can use to clean your carpet. Thankfully, many tools are affordable and can be found inside your home. 
Vacuum: Even if you don't want or need to vacuum every day, frequent vacuuming is still the most effective approach to keep your home looking clean and orderly. It is recommended that you vacuum your carpet at least twice a week to guarantee that you are keeping up with removing unwanted particles hidden in the carpet fibres.
Cleaning detergent: Carpets frequently require a deep cleaning procedure that cannot be accomplished with a vacuum cleaner alone. Using your preferred laundry detergent, create a homemade cleaning solution by mixing the agent with lukewarm water. Many different sorts of fabrics, from clothing to carpeting, can be cleaned with laundry detergent. 
Brush: You can also choose to brush the carpet with a carpet brush to remove any dirt that has become caught in the fibres. Pre-vacuuming carpet grooming helps release filth and pet hair, allowing for a more thorough cleaning when the vacuuming is completed. This will take some time and effort. In some cases, you should get down on your knees and scrub the problem areas as best as possible.
Baking soda: Baking soda can be used as a carpet cleaner to help refresh and revive your carpets in between professional cleaning appointments. Baking soda should be applied directly to the soiled area and allowed to sit for a couple of hours. Remove all baking soda and vinegar that has dried up with a vacuum cleaner. If you have a nylon carpet, this element may cause additional issues. On the other hand, baking soda is the most effective method of deodorising a jute rug.
Cloth: When eliminating stains from your carpet, always apply the detergent to a clean cloth rather than directly to the affected area on the carpet. It would be best to begin by treating the borders and working your way inwards. If a liquid spill occurs, blot it up promptly with paper towels or a white cloth to remove the moisture. Never use a towel or a napkin that isn't guaranteed to be stain-free.
Hiring professional carpet cleaners 
Since there are so many different varieties of carpet, it is highly advised that you use a professional carpet cleaner to clean them. These professionals are well-versed in the proper treatment of each type of carpet, and they will apply the most appropriate solution to remove stains and dust that has become embedded between the fibres.
Although professional carpet cleaning services are not inexpensive, they will clean your carpet more thoroughly than you can yourself. They will also help your carpet endure longer, allowing you to save money on carpet replacement in the long term.
Located in Canning Vale, BOAS Cleaning Services is happy to offer specialist carpet cleaning services to both commercial and residential customers. Our team of professionals uses high-performance carpet cleaning equipment and environmentally friendly cleaning supplies to help you get the most out of your carpets.