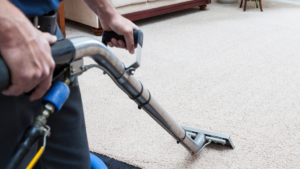 A home's design isn't complete without beautiful floor coverings like carpets and rugs. Therefore, it is no doubt that your home will look better and feel more welcoming with the addition of these items. However, carpets have a significant drawback: they are a magnet for dust, so bacteria, moulds, and mildew can grow on your carpet if it isn't cleaned regularly. In this article, we will be going over the top 5 most effective carpet cleaning methods that you can do if you find yourself in a sticky situation!
Which is the best method of carpet cleaning?
A "best carpet cleaning method" doesn't exist, and each rug cleaning process has its own set of advantages and disadvantages. Every stain or reason for cleaning can vary depending on a lot of outside factors, so only focusing on a singular do-all be-all method for cleaning your rug won't be of much help as you think. Consider the pros and cons of some of the most popular carpet cleaning procedures to help you make an informed decision for your case. If ever you need help choosing which method, this article will help you make an educated decision before you clean your rug!
The most effective types of carpet cleaning
Steam carpet cleaning, also known as hot water extraction cleaning, is the deepest-cleaning option of the five available options. It does it without damaging the carpet's structure or colour. The steam carpet cleaning process usually comprises applying a cleaning agent to the contaminated area and brushing the carpet before washing. Once the dust and stains have been removed, use hot pressurised water mixed with a soap solution to clean your carpet and then leave it to dry in a room or air-conditioned environment. Reduce surplus moisture in the air with a dehumidifier and remove extra water from the cloth with a vacuum if you wish to accelerate the drying process.
The bonnet carpet cleaning method is well known for its effectiveness in removing dirt and debris from the carpet's surface. Heavy-duty motorised equipment with an impregnated spinning pad is used for most carpet cleaning jobs to remove debris from the top layer of carpet fibres. Due to the shallow cleaning of bonneting, dirt beneath the carpet would resurface fast, making the carpet dirty again. The heavy machine pressure on the spinning pad forces the applied chemical and leftover debris into the carpet when bonneting. This leads to a buildup of chemical residue in the carpet, which is a disadvantage when using the bonnet method.
Encapsulation, sometimes referred to as the dry cleaning method, does not require water to clean carpets. This is one of the most common methods for conserving water and leaving behind fewer chemicals after every wash. The encapsulating chemical is then cleaned with a rotary brush machine or a cylindrical instrument. The chemical eliminates soil particles lodged deep within the carpet fibres. After applying the chemical, vacuum the carpet to remove any remaining dust, grime, and chemical residue. Due to technological limitations, encapsulation carpet cleaning has not been able to clean heavily soiled carpets while producing good cleaning outcomes.
Dry carpet cleaning, also known as compound cleaning, is one of the most recent cleaning methods available on the market. It has acquired increasing popularity and approval from the industry's major carpet producers due to its excellent cleaning performance and ease (no drying time required). As this cleaning technology is relatively new compared to other conventional wet carpet cleaning procedures that have been used and trusted for decades, many still question its effectiveness. The highlight of dry carpet cleaning is the application of a cleaning compound or powder to the bottom portion of the carpet, utilising a motorised counter-rotating brush machine to open the carpet fibre and allow the mixture to settle inside, resulting in a thorough and profound carpet cleaning.
Australia's professional carpet cleaners frequently employ the carpet shampoo process. All filth, dust, bacteria, and soil are effectively removed from the carpet using this method. Heavy soil removal from carpet fibres is made more accessible with this method. The carpet is shampooed and scrubbed with a moisture brush by professionals. Foam is generated due to this, and the dirt and dust it attracts are drawn in. Make sure the carpet is totally dry before beginning the vacuuming process. Vacuuming the carpet thoroughly removes soil and any remaining shampoo, leaving an excellent visible finish to the carpet.