At BOAS, steam cleaning is our recommended method of cleaning for most carpets and in most situations. There are several reasons this is the case – not least the fact that our state-of-the-art steam cleaning equipment is in a league of its own. With BOAS on the job, you can expect to enjoy some of the cleanest and most hygienic carpets the industry can provide.
Even so, there's more to cleaning carpets than steam cleaning. Our list of carpet cleaning services includes a range of other approaches, including bonnet carpet cleaning and dry carpet cleaning. In this post, we're going to take a closer look at the dry cleaning method as it compares to steam cleaning. As you're about to see, there's a time and place for both.
How Carpet Steam Cleaning Works
Steam cleaning a carpet requires the use of hot water, detergents and a steam cleaner. At BOAS, we use a Hydramaster Boxxer 427 machine. This is one of the best steam cleaners in the industry, championed for its use of extra-hot water (250 degrees C). The machine produces steam, which is mixed with the detergent and then sprayed over the carpet.
Steam is, of course, water vapour, but the fact that it's heated to such a high temperature means that it doesn't leave the carpet soggy. The steam activates the detergent, which then sears through the carpet fibres. This loosens soil and debris, which is then vacuumed up. That extremely hot steam also kills microbes, bacteria and other living pathogens.
The upsides of steam cleaning have everything to do with how hygienically clean the carpets are once finished. If there's a downside, it's that you have to stay off the carpets until they're dry. This could take anywhere from a couple of hours to a full day, depending on a few variables.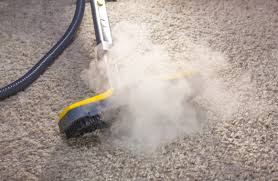 How Carpet Dry Cleaning Works
As with dry cleaning clothing, carpet dry cleaning achieves a 'chemical' clean. A cleaning agent is sprayed onto the carpet, and the fibres are then scrubbed with a pad that loosens dirt and debris from the carpet. Once that soil is loose, it can be vacuumed up.
Dry cleaning carpet uses mostly dry chemical compounds, with a small amount of liquid added. Overall, an extremely small amount of moisture is used. For this reason, the carpets are effectively dry and ready to be walked on as soon as the cleaning is over.
Dry carpet cleaning is particularly well-suited to places where the carpet receives a high level of traffic throughout the day and cannot be conveniently closed down long enough to allow the carpets to dry. Instead, small areas can be cordoned off whilst the carpet cleaner works on them.
Which Type of Carpet Cleaning Should I Arrange?
If you're unsure which carpet cleaning method is best in your situation, give BOAS Cleaning Services a call on 1300 611 454 for a quick consultation. We'll ask a few questions to get a better idea of your needs and provide an on-the-spot quotation.