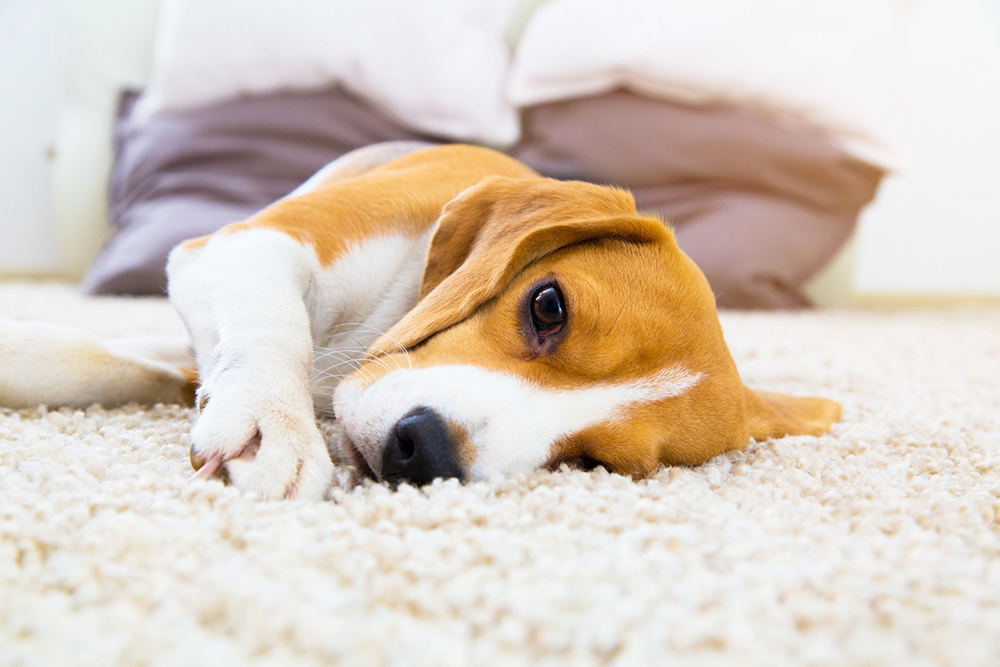 We all love our fuzzy fur balls, but there's no denying that they can be a bit hard on our carpets. 'Accidents' are bound to happen and in some cases, your pet's claws can snag the pile and ruin the carpet's appearance. The good news is that there are a couple of pet-friendly carpets that are both durable and easy to maintain. In this article, we'll discuss the top carpet options for pet-owners so you can enjoy a beautiful home flooring with your beloved companions.
Nylon
Nylon is the perfect carpet material for pet owners as it is durable, easy to clean, and holds up well against pet stains and mildew growth. Most carpet manufacturers add protective chemical treatments to their nylon carpets to resist fading and enhance their durability. During the manufacturing process, solution-dyed nylon has colour added right into the fibres to make them permanent. This process helps conceal stains to ensure you have a good-looking flooring at all times.
High quality nylon carpets can maintain their appearance for decades which is why they're the most popular types of carpets out there. The carpet fibres are abrasion-resistant which saves them from the wear and tear that comes with having a pet. This makes nylon carpets ideal for high-traffic areas like the stairs, entrances, and even living rooms.
If you want an affordable carpet option that resists pet odours and stains, then nylon carpets are the one for you.
Wool
The gold standard at which other carpets are compared to, wool is one of the most durable (if not the most durable) carpet materials out there. Most people think that wool is a delicate material and is best reserved for pet-free homes only. That couldn't be further from the truth as wool carpets offer supreme durability thanks to their tight weave and natural stain resistance.
Wool takes dye wonderfully and feels good to the touch. It's available in a variety of styles and colours to match your interior aesthetics whilst providing excellent resistance to pet stains and odours. Since they're made of renewable fibres, wool carpets are biodegradable and, if cared for properly, are long lasting.
Since it's a bit more sophisticated than other carpet types, it does come with a higher price tag. For home applications, wool carpets are best used in light to medium foot traffic so as to maintain its plush feel. Your pets will love the feel of wool carpet which is a plus for you and your furry companion!
While wool carpets are naturally stain-resistant, they don't come with protective coatings like nylon carpets do. Any spills and accidents should be treated right away to help extend the longevity of the carpet.
Olefin

Back in the day, olefin was considered to be a purely outdoor carpet. Also known as polypropylene, olefin has been developed to closely resemble the look and feel of wool. This type of carpet uses low-pile carpets, which are denser and shorter compared to other carpet fibres, thus making them ideal for high-traffic areas.

Olefin is typically made from plastic fibres and is fade-resistant, easy to clean, and very affordable. As such, olefin resists pet stains, soil, and moisture, making it the ideal carpet for pet owners. Many olefin carpets are made with loop fabrics that are dense and low to eliminate the chances of getting snagged by your pet's paws. Still, it's a good idea to get your pet's nails trimmed to preserve the condition of the carpet.
What to look for in a pet-friendly carpet
Regardless of the material your carpet is made of, you want to make sure it's constructed in a way that will resist the playful activity of your pet companions. Some of the things to look for are:
Carpet pile –

Carpet pile refers to the length and thickness of the carpet fibres. There are two types of carpet pile and these are loop pile and cut pile. Carpets with loop piles tend to get snagged by your pet's claws. Cut piles are so-called because the carpet fibres are cut to expose the ends. If you want a pet-friendly carpet, choose one with a cut pile.




Pattern and colour –

Let's face it; not all of us have the time to vacuum our carpets every day. The problem with this is that pet dander accumulates quickly and can ruin the appearance of your carpet. For the sake of aesthetics, choose a carpet with a pattern and colour that's similar to your pet's fur.




Synthetic vs. natural –

Synthetic carpets are known for their stain-resistance and are the sensible choice for pet-owners. They also tend to dry quicker which helps prevent mildew growth.
You don't have to sacrifice the aesthetics and condition of your home flooring to accommodate your furry friends. By choosing the right carpet type, you and your pet can enjoy a beautiful flooring option that's designed to resist stains and soils brought about by frequent pet activity.
If you're looking for efficient carpet cleaning services in Scarborough, then contact us at Boas Cleaning Services for more information.